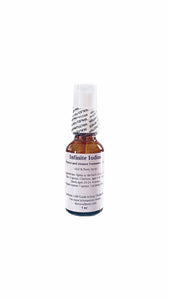 havawellness
Iodine
Regular price
$30.00
$0.00
Unit price
per
Product Details 
Infinite Iodine is an oral /body spray, formulated with revolutionary technology to protect and restore Immune system.Iodine is an essential micro-nutrient: it's not produced by the body but is a a necessary part of the Immune system. 
Ingredients : USP Grade Iodine, Distilled water 
SUGGESTED USE : Spray in the back of your throat 
Adults-5 pumps, Children ages 1-8 :3 pumps, Teens ages 10-14 :4 pumps , Pregnant woman -7 pumps , Lactating- 10 pumps    
It can be sprayed over the fungal nails, neck, hands and feet. 
NOTICE: Use only as directed. Consult health care professional before if you are pregnant, nursing, or have any medical condition. Stop immediately if you experience any adverse reactions. Do not use this product when abdominal pain, nausea or vomiting are present. Do not use this product if you have Hashimoto's disease.
POLICIES /FAQ/ DISCLAIMERS
Disclosure Statement: Herbalism is not licensed by the state of California. Our services are complementary in nature. These consultations are for educational purposes only, and do not replace the services of a licensed physician. Hava St Levi is not a Medical Doctor, and does not diagnose or treat disease.
RETURN & REFUND POLICY
If you are for any reason unsatisfied with our products, please contact customer service.
Any unopened items will be accepted.
It may take up to 14 business days to process the return.
If you would like to exchange your item, please contact our customer service.
SHIPPING INFO
 Items ordered before 2:00pm PST will ship within 3 to 5 business days. For all rushed orders placed before 2:00pm PST it will ship that same day via FedEx for next business day delivery.
---