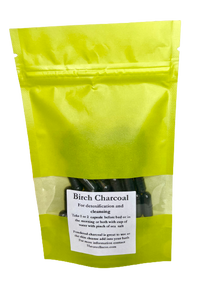 havawellness
Birch Charcoal
Regular price
$18.00
$0.00
Unit price
per
Birch charcoal in capsules 
For detoxification and cleansing
Take 1 or 2 capsules before bed or in the morning or both with a cup of water and a pinch of sea salt. Charcoal should not be taken near mealtime. Take charcoal at least two hours from the time of medication is taken.  

NOTICE: Use only as directed. Consult a health care professional before if you are pregnant, nursing, or have any medical condition. Stop immediately if you experience any adverse reactions
POLICIES /FAQ/ DISCLAIMERS
Disclosure Statement: Herbalism is not licensed by the state of California. Our services are complementary in nature. These consultations are for educational purposes only and do not replace the services of a licensed physician. Hava St Levi is not a Medical Doctor and does not diagnose or treat disease.
---