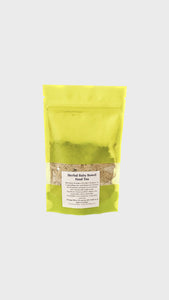 havawellness
Baby Bowel Food Tea
Regular price
$25.00
$0.00
Unit price
per
Aids in eliminating waste and assisting the intestines, regulates bowel movement. Great for nursing mothers, will help to reduce colic in babies. 
Ingredients: Fennel seeds, psyllium, slippery elm, peppermint, yarrow, spearmint, marshmallow root, cinnamon, orange peel, wild yam. 
Direction: To make a Herbal Baby Bowel Food Tea take 1 teaspoon of herbs in 1 cup water and simmer over low heat for 20 minutes and strain . Let it cool, and serve as often as needed. You can sweeten with maple syrup or date syrup. 
Dossage 1/8 to 1/2 cup with meals or as often as needed.
KEEP OUT OF REACH OF CHILDREN
NOTICE: Use only as directed. Consult health care professional before if you are pregnant, nursing, or have any medical condition. Stop immediately if you experience any adverse reactions. Do not use this product when abdominal pain, nausea or vomiting are present. 
POLICIES /FAQ/ DISCLAIMERS
Disclosure Statement: Herbalism is not licensed by the state of California. Our services are complementary in nature. These consultations are for educational purposes only, and do not replace the services of a licensed physician. Hava St Levi is not a Medical Doctor, and does not diagnose or treat disease.
RETURN & REFUND POLICY
If you are for any reason unsatisfied with our products, please contact customer service.
Any unopened items will be accepted.
It may take up to 14 business days to process the return.
If you would like to exchange your item, please contact our customer service.
SHIPPING INFO
Items ordered before 2:00pm PST will ship within 3 to 5 business days. For all rushed orders placed before 2:00pm PST it will ship that same day via FedEx for next business day delivery.
---